Aliases: The Vile One, The Ferocious One
Sobek quickly grew impatient with the ways of mortals and
became fascinated with the animals on the land of Geb,
specifically the crocodiles that populated the Nile River
throughout Egypt. Adopting both the ferocity and the
merciless attitude of the crocodile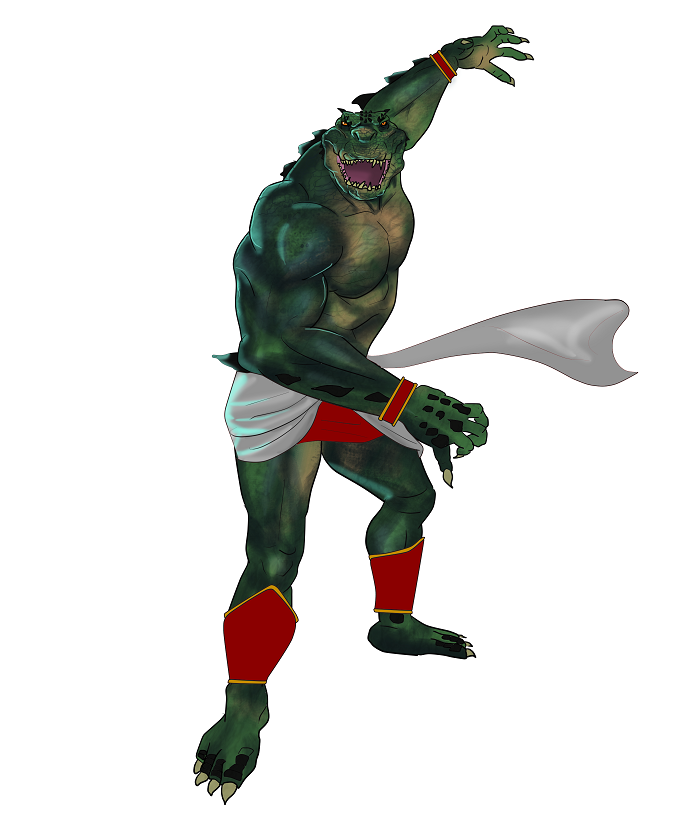 Sobek is a demi-god from the lineage of Anubis. Like Sekhmet, Sobek spent his early years within the land of Geb in Egypt, prior to living amongst the Gods in Taut. Although Sobek was a descendant from Anubis, he was drawn to, and accepted by both Osiris and Grand Isis.
As he was no threat to mortals, Sobek traveled between the dimension of Taut and the land of Geb. Sobek quickly grew impatient with the ways of mortals and became fascinated with the animals on the land of Geb, specifically the crocodiles that populated the Nile River throughout Egypt. 
Adopting both the ferocity and the merciless attitude of the crocodile, Sobek became known for this cruelty to mortals and his brashness with immortals. His demeanor had become so vile that he fell out of the graces of Osiris and his Queen Isis. It was however, their rebuke of Sobek that appeared to kindle an interest from Anubis, thus finally connecting the demi-god with his father.